For several years now Spitfire Vc AR501 has been undergoing a meticulous restoration which will put it in good stead to continue flying out of Old Warden for many years to come.
Set in historic parkland with its (1909), Sopwith Pup (1916), Bristol F.2b CZECH HISTORY own delightful country house, a day spent at one of the Shuttleworth Collection's regularly held flying days at Old Warden in Bedfordshire is always a delight. There's something for all the family, with a children's play centre, the beautiful Swiss Garden and even a bird of prey centre. But for the aviation enthusiast the airworthy aircraft, many of which are the only examples of their type flying in the world, are of course the big draw. Shuttleworth's large fleet encompasses a wide variety of types ranging from even the earliest days of flight, including a Bleriot XI (1909), Sopwith Pup (1916), Bristol F.2b Fighter (1918), DH.53 Humming Bird (1923), Hawker Tomtit (1930), Avro Tutor (1933), Hawker Hind (1935), Westland Lysander (1936), Gloster Gladiator (1938), DHC Chipmunk (1946) and Percival Provost (1955) – to list just a selection!
CZECH HISTORY
AR501 was completed by Westland Aircraft Company Ltd on 19 June 1942 at Yeovil in Somerset. It was delivered to 8 Maintenance Unit at Little Rissington in Gloucestershire on 22 June and then 6MU at Brize Norton, Oxon. On 19 July, the Mk.Vc was issued to 310 (Czech) Squadron at Exeter, Devon. Its first operational sortie took place on 3 August, when it was flown by Sgt A Skach on a convoy patrol. During the following eight months, AR501 flew 74 operations and was flown at first by Sqn Ldr Frantisek Dolezal DFC, who had achieved prior air combat victories while serving with the French Air Force and then the RAF in 1940.
While in service with 310 Squadron, AR501 flew many bomber escort duties for the US 8th Air Force, notably the 91st Bomb Group from Bassingbourn, Cambridgeshire, around the same time that the famous B-17Memphis Belle documentary was filmed. On one sortie, the Spitfire suffered engine problems and had to return to base, and this escort mission involved combat, with the loss of two Spitfires to the then new Focke-Wulf Fw 190. In a twist of fate, one of the Fw 190s involved in that dogfight landed in Wales after its pilot mistook the Bristol Channel for the English Channel and became the first of its type to be captured complete. No.310 Squadron was re-equipped with Spitfires IXs on 1 February 1944 and AR501 was later issued to another Czech unit, 312 Squadron. This unit also received Spitfire IXs in February 1944, so later that month AR501 was issued to 422 Squadron RCAF for fighter affiliation exercises. Damaged in a flying accident 9 September 1944, AR501 was repaired and fitted with 'clipped' wing tips for operating at low-level.
From 20 April 1945, it was on the strength of the Central Gunnery School, and with the war over was flown to 29 MU at High Ercall, Shropshire. On 21 March 1946, the Spitfire was flown to Loughborough College's Department of Aeronautical Engineering to serve as a training airframe.
In 1961, The Shuttleworth Collection acquired AR501 along with its Sea Hurricane Ib Z7015, which was also at the college, in exchange for a Jet Provost Mk.1. This brought the college's instructional airframes into the jet age.
When first at Old Warden in 1961, AR501 was displayed in a disassembled state, with the code letters D and K either side of the roundel and wearing gloss camouflage paint. In 1967, it was taken to Henlow, Bedfordshire, to be returned to flying condition by Simpsons Aero Services. The following year, it returned to the air with the Sea Hurricane's de Havilland propeller, as the Spitfire's Rotol example was not useable. Wingtips were changed back to full-span and the cannon castings removed to make it look further like a Mk.Ia of the 1940 era. Its first post-restoration flight was carried out on
27 May 1968.
This work was carried out for the classicBattle of Britain film, where AR501 was painted in many guises along with numerous other flying Spitfires and more static or taxiing examples; Shuttleworth's Hurricane was also used in the film as ground running only. Following filming, the Spitfire's wings were returned to 'clipped' and it was flown to RAE Bedford. It remained there until being shipped to West Germany for use by the Canadian Armed Forces at a colour presentation ceremony on 3 May 1973.
On 7 May 1973, it was returned to Duxford for rebuild by the East Anglian Aviation Society in conjunction with the Shuttleworth Collection. This rebuild was started by a group of enthusiasts who became the Duxford Aviation Society/ Shuttleworth Veteran Aeroplane Society Group, generally known to most as the 'Spitfire Crew'.
On completion of the restoration, it was finished in a scheme thought to have been worn when newly arrived with 310 Squadron, wearing the code NN-D. This was chosen as the most likely of three aircraft it could have been and 'D' was considered apt as it represented 'Duxford' or 'Dolezal'; but later research showed it was actually A and the code was changed.
On 27 June 1975, AR501 carried out its post-restoration flight flown by Neil Williams. This was the Friday preceding a Duxford air display at which it was flown over both days of the weekend event.
AR501 remained based at Duxford for a number of years until permanently moving to its home at Old Warden on 6 September 1981. The aircraft was then regularly displayed there and at other major airshows around the UK. It has since appeared on TV and notably in the film Pearl Harbor, which was filmed from 29 August to 2 September 2000. As this was for the early part of the film, which saw one of the lead characters going to England to fly with the RAF in the Battle of Britain before the US entered the war, AR501 was once again given full-span wings to appear more like a Spitfire of that era. It was also given a temporary repaint into a battle-worn appearance and appeared at airshows in this guise.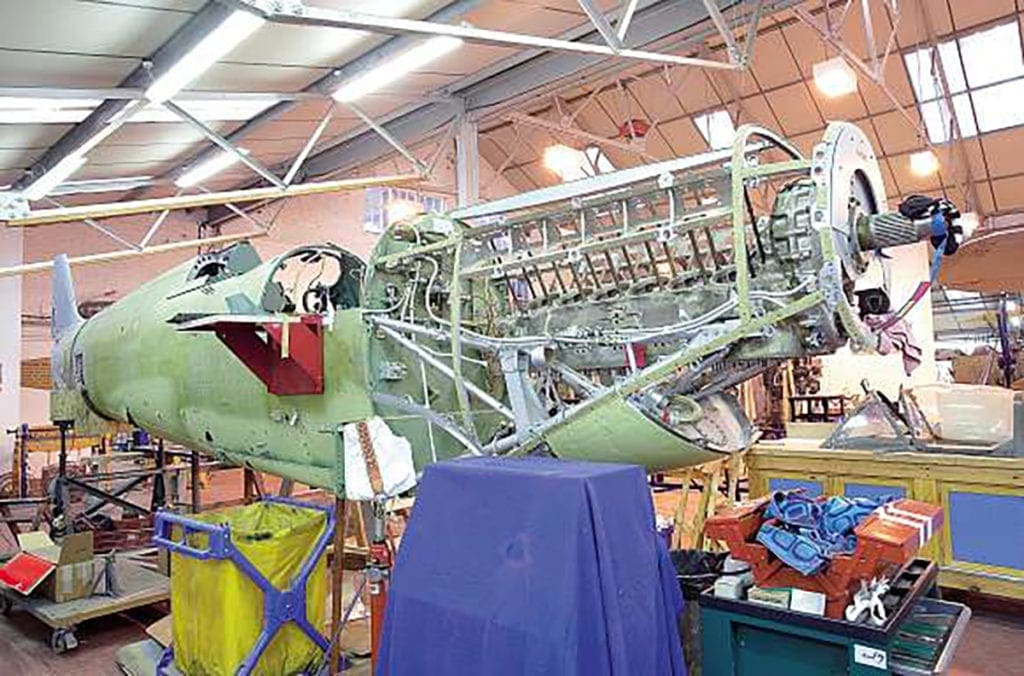 LATEST RESTORATION
From 2 October 2005 to 14 May 2007, the aircraft was withdrawn from flying as the oil pressure of its Merlin engine had reached minimum Rolls- Royce limits and Shuttleworth wished to preserve it for a subsequent rebuild. A spare engine had already been star ted by Steve McManus and
Toby Lee in March 2003 and was finished in October 2007. Work proper began on 14 May 2007 with disassembly of the aircraft for non-destructive testing of the engine mounts, undercarriage pintles, wing spars, longerons, cross braces, control surfaces and firewall crossmember as
part of a major inspection. The engine was removed and work began on inspection of the airframe. One of the
challenges for the team, which consists of one full-time Shuttleworth engineer and five regular part- time volunteers, was to find out how much of the airframe was riveted with magnesium rivets, which are of a highly corrosive nature. After paint stripping the fuselage and drilling out a selection of rivets to test their strength, it was decided that the engineering team would need to replace all magnesium rivets on the main fuselage skins plus those on the rear fuselage and all tail plane rivets too – a total of over 8000! The wings would also require the same treatment.
In order to gain access to the rivets, all components were removed, catalogued and labelled, then paint stripped, inspected and repaired if required, then repainted. After re- riveting and repairs, the fuselage was painted internally and then all restored components were refitted. The aircraft will be re-wired and all items overhauled as required. This work is ongoing and no definite date can be given for its return to the air. Progress is going well though and as can be seen from the photo, the aircraft is coming back together again. In the not too distant future, this former Czech-flown fighter will be re- joining the impressive Shuttleworth Collection fleet thrilling the audiences in the skies above Old Warden once more. 
AllMyReads
Read every issue of Aviation Classics for just 99p on AllMyReads.com