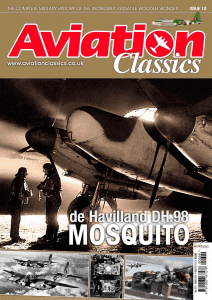 Legend understood – Just so you know, and I make no excuses for this, I have found that this is the hardest page to write in the whole magazine. Summing up an entire edition in a few paragraphs, particularly when you are dealing with such a large subject as this, is difficult without leaving out something important, making it sound glib, or worse still, trite. Consequently, when it came to the Mosquito, information was not the problem. The problem was trying to understand the true nature of a legend, and express it clearly.
A lot of people listen to music when they write. I listen to The Goon Show and Monty Python. There is something about the absurd constructs and lunatic juxtapositions that seem to free the mind. The Gumby Theatre was playing and there, right at the end of the sketch, was inspiration. "Adapted… by putting it on a piece of wood and banging a few nails through it". Admittedly, the Monty Python boys were talking about Anton Chekhov's The Cherry Orchard, but they could have been talking about the Mosquito. Suddenly, I got it. I understood the legend.
Adaptable was what the aircraft was all about, and often those adaptations came about by little more than the Python method, new mission equipment simply screwed, glued or nailed into the slim wooden airframe. This is not to say these adaptations were rushed or ill-considered, but the nature of the airframe lent itself to simple, effective and – most of all – speedy, configuration to many roles.
There were many excellent aircraft built during the Second World War, but only one in this league. A Spitfire would not have made a heavy bomber or a good night-fighter, although it was an excellent fighter, fighter-bomber and photo-reconnaissance aircraft. A Lancaster would have not excelled as a fighter. The only two aircraft that come close are the Ju-88 and P-38 Lightning, but the Lightning did not have the payload of the Mosquito and the Ju-88 lacked its agility as a fighter. Only the Mosquito excelled in every single one of its roles, with the performance each required.
The key to the legend, then, is its adaptability, but that key came from skill, dedication and genius. Officialdom was initially very suspicious of the concept, applying an often outmoded understanding of air warfare and aircraft and seeing only problems in an unarmed bomber. Geoffrey de Havilland did understand aircraft, particularly the safety that came with speed and in Eric Bishop he had a chief designer who could give him the performance he needed for the new design. Even in the face of official rejection, their belief in the concept was unshakeable. This belief was only the beginning of the Mosquito story.
The construction techniques required for the airframe were complex and required great skill, but created a beautifully simple and efficient airframe. The materials were available, being considered non-strategic, and the skills were available as de Havilland had foreseen, there was not much call for pianos and furniture in wartime. These skilled woodworkers took to the task with a will, and the aircraft benefited enormously from their feedback. What resulted from these many layers of skill, dedication and genius was a lightweight, strong airframe with performance to spare, even from the very beginning. Looking down the inside of the fuselage of a Mosquito, there was also a lot of empty space for equipment.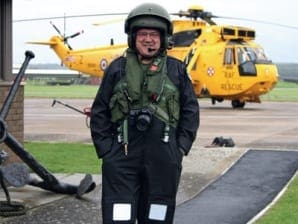 This last factor was the remaining piece of the legend. You could put what you needed inside the airframe, maintaining its streamlining and therefore performance, and you could put it there with relative ease. Mounts for cameras, racks for radar equipment, all could be designed and mass produced quickly, then glued or screwed on to the wood internally. Even the bomb bay was extended greatly without real penalty. Weapons, aerials and drop tanks were the only externally mounted items that ever changed the basic shape. That was the real genius of the Mosquito. There were 7,781 built in 37 versions, but aside from engines and the odd bulge, it actually changed very little. A late model Mosquito could be parked next to the prototype and you still wouldn't mistake it for anything else. Like the Spitfire and the Mustang, it remained true to its form, because that form was right first time. Maybe that's what genius is, the creation of perfection. It certainly is the stuff of legends.
All best,
Tim
Contents
6 Legend understood
8 Ancestors and evolution
14 Mosquito prototypes and testing
20 The Bombers
26 10,000 Cookies
32 The Fighters, Night Fighters and Fighter Bombers
40 Flying the supreme Night Fighter
46 American Mosquito Night Fighters
54 The Banff Strike Wing
62 Diver destroyer
66 Alone and unarmed
76 Inside the Mosquito
86 The Trainers
88 The Mosquito abroad
94 The ball bearing run
100 The story of a Pathfinder
104 Oddball Mosquitos
108 Mosquito variants at a glance
118 Mosquito to fly again
120 Jay Leno's Mosquito Merlin
122 Survivors

Mosquito Prototypes and Testing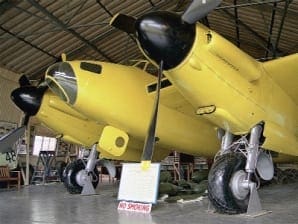 In September 1939 a team led by chief designer Eric Bishop set up shop in Salisbury Hall, a 17th century manor house near de Havilland's Hatfield factory. By coincidence, it was no stranger to designers of streamlined high-speed machinery, having previously been home to Sir Nigel Gresley, creator of the LNER's A4 class locomotives, of which Mallard was – and is – a record-holding example.
In fact the hall is no stranger to fast ladies, either, for in the 17th century KingCharles II's mistress Nell Gwynne had a cottage nearby. The hall's very large kitchen became a workshop, and a hangar was constructed abutting the building.
The initial DH.98 design was presented to the Air Ministry in September 1938. For the fighter and fighter-bomber rôles envisaged, there was provision for 20mm cannon to be installed under the nose. Development was hampered by continued Air Ministry interference, trying to impose defensive armament (a mock-up was in fact built featuring two rearward firing machine guns) and provision for torpedoes in the maritime strike role, but de Havilland stood firm in the face of repeated rejections. Aerodynamic purity would not be sacrificed, though even Air Marshal Freeman was not entirely convinced that the type would outperform a Spitfire or German fighters that might be introduced in the by then inevitable war.
Finally, in November 1938, an order for a development prototype was granted, but priority was to be given to the production of Tiger Moth trainers, Rapide light transports (which the RAF called Dominies) and essential variable-pitch airscrews for several other manufacturers. The company was also sub-contracted to produce Airspeed Oxfords. The Air Ministry still interfered occasionally, suggesting that the more powerful Griffon engine might permit installation of a four-gun turret without compromising the top speed. The possibilty was investigated by de Havilland, but as neither Griffons nor turrets were available, only mock-ups were built. The DH.98 was still considered purely a development type.
On December 12, 1939, three months into the war, a prototype was at last ordered, but as Bomber Command chief Sir Edgar Ludlow-Hewitt did not favour an unarmed bomber, it was to be a photo-reconnaissance type under Specification B.1/40, which was duly issued. Then, on the first day of 1940, Air Marshal Freeman ordered a single prototype of what Geoffrey de Havilland called "the fastest bomber in the world", to have a maximum speed of 397mph (639kmh) at 23,700 feet (7723.7m) and to cruise at 327mph (526kmh) at 26,600 feet (8100m). Range was to be 1,480 (2380m) at 24,900 feet (7600m), and ceiling 32,100 feet (9800m). The order was increased to 50 aircraft, including the prototype, on March 1, 1940.
The Dunkirk emergency put a hold on detail design and construction as Merlin engines were needed for fighters, and none could be spared for prototype construction. Priority was restored only when Lord Beaverbrook, Minister of Aircraft Production, was convinced that enough Merlins would be available. The team worked through the Battle of Britain, losing much time to air raids that required them to retreat to the shelters, but E-0234, the bomber/reconnaissance prototype fitted with Merlin 21s and painted overall in yellow, was rolled out on November 19, 1940, just 10 months and 26 days after its inception. It had been transferred by road to a shed with a 450-yard air strip adjacent to the Hatfield factory. Taxi tests on November 24 were followed next day by the first flight, piloted by Geoffrey de Havilland, Jr, accompanied by John Walker, designer of the engine installation.
The Mosquito performed just as expected, reaching a speed of 220mph (350 kmh). Minor problems were the failure of the main gear doors, tension sprung with bungee cords, to close fully, and of the tailwheel to castor properly. The latter, persisting for some time and eventually leading to a fuselage breakage the following February at the Aeroplane and Armament Experimental Establishment, Boscombe Down, necessitated the hurried replacement by the fuselage of the photo-reconnaissance prototype W4051. It was cured in June-July 1941 by the substitution of a Dowty unit. By early December 1940 the aircraft had received its RAF serial number, W4050, and in January it proved faster than a Spitfire at 6000 feet (1800m). As the flight envelope was extended, buffeting was encountered due to turbulent airflow from the nacelles striking the tailplane. After various modifications were tried, the buffeting was cured by extending the nacelles aft of the wing trailing edge with fairings which required the flaps to be split.
Despite the accident at Boscombe Down, the test pilots there were very enthusiastic. W4050 had achieved 388mph (624kmh) at 22,000 feet (6700 m), and exceeded its predicted ceiling by about 1,800 feet (550 m). It could climb at up to 2,880 feet (880m) per minute. A demonstration to officials including Lord Beaverbrook and General Henry 'Hap' Arnold of the USAAF on April 20, 1941 featured an upward roll on one engine. It made a profound impression on the visitors; General Arnold was keen for the US to buy the type, but was overruled by those who thought, mistakenly, that the Lockheed P-38 would be equally capable in the reconnaissance role. A few days after the Japanese raid on Pearl Harbor in December 1941, the USAAF, by then an Allied service, requested a Mosquito for evaluation.
During W4050's initial testing, it was given a larger tailplane and more efficient exhaust stubs. When it proved able to carry a bomb load of 4,000lb (1800kg), it was decided to increase the wingspan from 52ft 6 in (16m) to 54ft 2in (16.51m) on subsequent airframes. It briefly acquired a turret, which was quickly abandoned since its drag slowed the aircraft down too much, as anticipated. Much more worthwhile were the two-stage supercharged Merlin 61s with which it first flew on June 20, 1942; they gave W4050 a top speed of 437 mph (703 kmh) at 29,200 feet (8900 m).
On its second flight with the new engines it reached an altitude of 40,000 feet (12200m). Part of this increase in performance was due to multiple ejector exhaust stubs, which W4050 evaluated for night fighter applications; not only did they eliminate the dazzling glow which interfered with the crew's night vision, but they also added a significant element of what amounted to jet thrust.
A further re-engining with Merlin 77s, flown from October 8, 1942, produced a maximum speed variously quoted as 437 and 439mph (about 705 kmh) in November, the fastest of any Mosquito. The aircraft spent just over three months of 1943 as a test-bed with Rolls-Royce. In 1944, after a long and distinguished flying career, W4050 was grounded and handed over to the Hatfield factory for apprentice training. It appeared in the 1945 film The Mosquito Story before returning to Salisbury Hall, by then the de Havilland Aeronautical school, in 1946, and was struck off charge on June 21, 1947. Incredibly, this historic aircraft was then scheduled for destruction, from which it was rescued by Bill Baird, de Havilland's assistant public relations manager. He had the aircraft stored at various locations before a place was found at Salisbury Hall, the new owner of which, Walter Goldsmith, had asked for the prototype to be exhibited there, in its birthplace. W4050 went on display on May 15, 1959, and is now the centrepiece of an enthralling museum, the de Havilland Aircraft Heritage Centre. It is currently under restoration by the supporters' society, with the collaboration and backing of BAe Systems.
W4051 having donated its original fuselage to the first prototype following its accident, W4052 was next to fly, on May 15, 1941. A German spy had been arrested in the area the day before, but he had not learnt of the secret prototype under construction. This was the fighter prototype, designed to specification F.21/40 and armed with four 0.303 machine guns in the solid nose and four 20mm cannons below them, their breeches protruding into the bomb bay. A new crew entrance door in the side replaced that on the underside, and to aid gun sighting, an optically flat bullet-proof windscreen was fitted. Upgraded Merlin 21s of 1460 hp (1090kw) were installed. In a career lasting until January 28, 1946, when it was unceremoniously scrapped, W4052 evaluated 40 mm cannons, bomb racks, barrage balloon cable cutters, drop tanks and, in 1942, the remarkable Youngman Frill airbrake, which encircled the fuselage behind the wings and lay flat against the skin until it opened up like the frill of a lizard. Intended for rapid deceleration in combat, the brake was not adopted, because lowering the undercarriage proved just as effective. Other items tested included Hamilton airscrews in place of the standard de Havilland Hydromatic propellers, braking propellers and drooping ailerons to act as supplementary flaps.
The delayed W4051, finally given a production standard fuselage, flew on June 10, 1941 equipped for photo-reconnaissance and the first of the type to have the longer wings. A variety of cameras could be carried, and the Mosquito's adaptable wooden structure made modification to take them a simple matter. Even the camera mounts were made of wood, which was found to transmit less vibration than the steel mounts initially installed. W 4051 was the only one of the three original prototypes to become operational, eventually joining No.1 PRU based at RAF Benson.
After much vacillation, a production order was finally placed on June 21, 1941, for 19 PR aircraft, 176 fighters and 50 unspecified types, which were confirmed as unarmed bombers the following month. Contracts for T.III trainers and F.B.VI fighter-bombers were added in January 1942 in addition to a large order for other variants, bringing the total to 1378 plus 400 to be built in Canada. Eventual production reached 7781 aircraft in 36 marks, with Australia also building Mosquitoes in due course.
Parts for the Mosquito were made in widely dispersed workshops, but particularly concentrated around High Wycombe in Buckinghamshire, where there were several furniture factories and a piano factory. A fuselage could be produced and equipped by six workers in a week. Concrete copies were made of the original mahogany moulds, which were not durable enough for mass production. The only major metal parts were the radiators and their housings, the engines and their mounts, the undercarriage, the rudder and the framework of the fabric-covered elevators, which were eventually also given aluminium skin. Actually, aluminium covered most of the airframe in the form of silver dope, applied over the clear doped Madapolam cotton fabric to fill the remaining weave texture before the top coat of camouflage was added. Spruce formed the wing and tail spars, and was used in combination with various other woods in the remaining structural members. The plywood fuselage skin was made from Ecuadorean balsa wood sandwiched between layers of special thin birch veneer made by Roddis Manufacturing in Marshfield, Wisconsin, America. This and the balsa were of such quality that it was worth running the gauntlet of U-boat packs to import them. Aeromodellers, however, spent the entire war bemoaning the scarcity of balsa wood.
Completed Mosquitos were turned out in Britain by de Havilland at Hatfield, Leavesden and Hawarden, the Standard Motor Company at Coventry, Percival Aircraft at Luton, and Airspee Aircraft at Portsmouth. Canadian-built fuselages were made by General Motors in Oshawa, Ontario, and airframes completed by de Havilland in Toronto. Australian Mosquitoes were built by DH in Sydney. Concern about deterioration in tropical climates eventually led to a substitution of urea-formaldehyde adhesive for the casein glue originally used.
A German contemporary, the Focke-Wulf Ta 154 nightfighter, also made of plywood and resembling the Grumman Tigercat, inevitably came to be called the Moskito, but it enjoyed considerably less success than its British namesake, falling victim to Nazi party infighting and the forced use of inferior ersatz adhesives. It was eventually cancelled after the dismissal of its chief advocate, General Erhard Milch.
In 1943, Reichsmarschall Hermann Goering gave the Mosquito its most famous tribute: "I turn green and yellow with envy. The British, who can afford aluminium better than we can, knock together a beautiful wooden aircraft that every piano factory over there is building, and they give it a speed which they have now increased yet again…"
10,000 Cookies! The Light Night Striking Force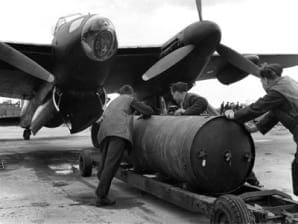 The Mosquito Squadrons of 8 Group, the Pathfinders of Bomber Command, undertook many roles, from developing accurate navigation and bombing systems and flying bomber support sorties. They also flew diversionary raids to the Main Force, becoming known as the Light Night Striking Force. Martyn Chorlton details the history.
The early days of Oboe
The story of the LNSF is one that began in late May 1943 when 2 Group ceased to be a part of Bomber Command. Thanks to the foresight of Don Bennett, two of the group's Mosquito units, 105 and 139 Squadrons were transferred to 8 Group, better known as the Pathfinders. The seeds were now sown for a new approach to the bomber command offensive making use of the Mosquitos' speed, range and ability to pack a relatively undetected punch against an enemy who was often unaware of their presence until it was too late.
Mosquitos had been a part of 8 Group since August 1942 when 109 Squadron was transferred to it from the WIDU. The squadron had been quietly working in the background developing and testing Oboe, initially using the Wellington IV, but the equipment did not like the transition to the Mosquito. Problems with the equipment were not fully resolved until June 1943 but Bennett's impatience and the keenness displayed by the crews of 109 Squadron resulted in Oboe entering service before it was completely shaken down. At 1755hrs on the December 20, 1942, Sqn Ldr H E Bufton and his navigator Flt Lt E L I Fould led six Mosquitos against the Lutterade power station. On approaching the target, it was Bufton who dropped the first Oboe-aimed bombs along with two other crews from the small formation. The Oboe transmitter in the remaining three aircraft failed to work properly and they bombed elsewhere, a familiar story to those who had been working on the project for many months. Post attack reconnaissance flown the following day over Lutterade was unable to establish whether the Oboe attack had been successful because of craters from a previous raid. However, local reports stated that nine bombs fell in open country approximately a mile from the power station and very close to a large area of housing. The system would prove to be invaluable as the war progressed and, by June 1943, 8 Group introduced 105 Squadron as its second Oboe-equipped unit.
139 Squadron's motto 'We destroy at Will' was very appropriate since receiving its first Mosquito IV back in June 1942. Twelve months later, the squadron was doing just that and, on June 13/14, 1943, 13 of them set out to bomb Berlin, Dusseldorf and Cologne for its first operation for 8 Group. The raid was a little bit of an anti-climax as all three cities were cloud-covered and only estimated positions were bombed. What was significant about the raid was the fact that all returned safely, without harassment by night fighters or flak, in half the time that a four engined heavy would have taken.
After gaining further experience flying 'nuisance' raids during June and into mid-July, 139 Squadron was tasked with dropping Window ahead of a large raid for the first time. The target was Essen on July 25/26 with 705 aircraft taking part including 19 Mosquitos at the front, flying alongside the seasoned PFF crews. As the target was approached, the Mosquitos began dropping Window (thin strips of metal foil) on their first run and then went around again to bomb the target. Four nights later, the squadron's Mosquitos went one step further and dropped Window over Hamburg ahead of the marker crews.
Spoofing!
Another new tactic thanks to the increased involvement of the Mosquito was the introduction of the diversion raid or 'spoofing'. The first time this was tried out was on the night of August 10/11 when the main force of 653 attacked Nuremberg. Meanwhile, just nine Mosquitos carried out their 'spoof' on Mannheim, dropping Window on the run in and also, for the first time, dropping TIs (Target Indicators) as well. The small force then made two extra runs on the target, dropping HE as they went. While losses were average on the Nuremberg raid, the effect of the diversion could not be fully gauged, but on the night of August 17/18, the spoof certainly made a difference. The target on this occasion was Peenemünde and if the enemy's night fighter controllers got a sniff of this target being attacked, then most of the Luftwaffe's finest would be directed towards them. 596 Lancasters, Halifaxes and Stirlings headed for the German Research Establishment while eight Mosquitos set course for Berlin. Once over the German capital, the first two of three waves were already preparing to attack Peenemünde, completely unmolested by the enemy except for local flak defences. This could be credited to the highly successful diversion by 139 Squadron who had duped the enemy fighter controllers into thinking that Berlin was the main target. To the enemy's credit, they reacted extremely fast when they had realised their error and the third wave of bombers would bear the brunt of the night's losses; but it could have been so much worse. Even 139 Squadron did not completely get away with it, losing two aircraft by the end of the night. Fg Off A S Cooke and Sgt D A H Dixon in Mosquito IV DZ379 were intercepted by a night-fighter and shot down near Berge, killing both crew instantly. The second loss was more fortunate for the crew when Flt Lt R A V Crampton and Fg Off P L U Cross were both injured after DZ465 crash-landed at Swanton Morely. When it was the turn of the bombers to hit Berlin again on the night of September 31/1, several of the crews reported seeing white flares along the route in and out of the target. These were presumed to be enemy fighter flares to help guide the Wild Boar crews towards the main bomber stream. A dangerous game of cat and mouse had been initiated so as to counteract the threat of the Mosquitos on the next trip to Berlin on September 3/4 dropped their own White Drip flares at intervals, effectively marking a false route away from the main force.
This tactic worked well and the Mosquitos were now being stalked by night fighters but the performance of the aircraft and crew were more than up to the job of out-manoeuvring the enemy.
Throughout September 1943, the Germans were well aware of how the Mosquito was being used by 8 Group. Because of the aircraft's habit of operating at higher altitudes, the enemy quickly developed flak which could burst at up to 30,000ft. Two of 139 Squadron's Mosquitoes were coned over Dusseldorf and the subsequent barrage meant that both had to return to England on a single engine. Sqn Ldr D A Braithwaite was coned over Brandenburg on September 14/15 en route to Berlin. The Mosquito was hit at least 10 times by flak but, typifying the spirit of 139 Squadron, Braithwaite continued on to bomb Berlin and then returned home safely to Wyton.
By late October, Bennett found himself with a surplus of Mosquito crews which were more than sufficient to form a third flight for 139 Squadron. However, Bennett decided that the surplus would be best used to create a new unit. Eight crews were transferred from 139 Squadron to create 627 Squadron on November 12, 1943 at Oakington.
The New Year brought another new squadron to the 8 Group fold when 692 Squadron was formed at Gravely on November 1, 1944 under the command of Wg Cdr W G Lockhart. The new unit did not manage to contribute to the fight for most of January but 139 and 627 Squadrons managed 184 successful sorties between them. One of these was a particularly effective spoof on Berlin where TIs and window were dropped causing the bulk of the night fighter force to assemble over the capital while the main force plastered Stettin.
GH and H2S
By this time, 139 Squadron was being slowly steered towards becoming 8 Group's main marking squadron for the LNSF. Experiments with GH had been disappointing but one Mosquito was modified to take H2S and this flew operationally for the first time to Berlin on January 27/28. Five days later, the same aircraft led a small force of Mosquitos, including one from 692 Squadron on its first operation, on another raid to Berlin using H2S. The biggest raid of the war so far on Berlin on February 15/16 owed part of its success to Sqn Ldr S D Watts and an accomplice. Watts was busily laying a false route out of the target and, while checking to make sure his flares were being backed up, was amused and surprised to see a German aircraft reinforcing the flares behind him.
The Mosquito was continually being experimented on to find out the limit of its capabilities which were still a long way from being completely exhausted. A proposal was put forward in April 1943, suggesting the Mosquito was more than man enough to carry a 4,000lb single bomb load; namely a 'Cookie'. The bomb bay was easily modified but the centre of gravity, thanks to the extra weight, was causing a few headaches, and in the case of the Mosquito IV and IX, was never completed eradicated. Regardless of the C of G issues, a pair of modified Mk.IVs were delivered to Oakington for 627 Squadron but for some unknown reason were immediately transferred to Gravely for 692 Squadron. The two converted Mosquitos were ready for action and, on February 23, 1944, Sqn Ldr Watts and Fg Off C Hassell took off for Düsseldorf at 1903hrs. Right behind them was Flt Lt V S Moore and Plt Off P F Dillon, setting the stage to see which crew would be the first drop a Cookie from a Mosquito. 105 Squadron provided the small marking force and, at 2045.30hrs, Watts navigator/bomb aimer pressed the bomb release first followed by one minute later by the bomb from Moore's aircraft.
With still only three squadrons making up 8 Group's LNSF, the Mosquitos still managed to fly 509 sorties of which 489 of them were successful. One particularly successful spoof operation was flown by 627 Squadron on March 1/2. While the main force attacked Stuttgart, 11 Mosquitos created an elaborate diversion all the way to Munich, resulting in just four bombers being lost out of a force of 557 aircraft.
Growing in numbers
The LNSF continued to swell when 571 Squadron was formed at Downham Market on April 5, 1944. The squadron was to be a two-flight setup at first but some of its intended aircraft were transferred to 105 Squadron which was now at Bourn. 105 Squadron now gained 'C' Flight as there was now a higher priority being placed on smaller targets within Oboe range and Bennett was well aware of the pressure being placed on his two Oboe-equipped squadrons.
571 Squadron took part in its first operation on April 12/13 when two crews were among 39 Mosquitos in an attack on Osnabrück. This size of raid was now becoming the norm for the LNSF and April 1944 in particular included some very large Mosquito raids. 35 attacked Hannover at the beginning of the month, followed by 41 against Cologne and another 40 attacking Essen on April 8/9. The raid on April 13/14 saw Mosquitos carrying Cookies to Berlin for the first time. The extra fuel needed was carried in a pair of 50-gallon drop tanks which were neatly fitted under each wing.
On April 15, the LNSF shrunk slightly when 627 Squadron was transferred 5 Group to see the remainder of its wartime service out at Woodhall Spa. Despite the drop in manpower, the LNSF still managed to carry out 553 sorties with only the loss of a single aircraft.
As D-Day approached, Bomber Command were becoming increasingly pre-occupied with targets in Northern France. This did not stop the LNSF continuing to carry the fight to Germany which included another seven attacks on Berlin. With still only three squadrons, the LNSF managed to fly 661 sorties but this figure was would be on the rise again with the arrival of another squadron on August 1, 1944. 608 Squadron was re-formed at Downham Market with the Mosquito XX and was destined to operate from the Norfolk airfield for the remainder of the war. Only four days later, Sqn Ldr J D Bolton flew the squadron's first operation to Wanne-Eickel. 608 Squadron were in the thick of the action from the start and one very successful attack on Cologne on August 23/24 saw 'an enormous explosion lasting 45 seconds lit up streets and buildings'. It did not go all the LNSF's way that night, with one 692 Squadron aircraft crashing en route, killing both crew and Flt Lt S O Webb in 608 Squadron Mosquito XX KB242 being attacked at least four times by a night fighter. Webb and his navigator, Plt Off Campbell, were lucky to make it to Woodbridge uninjured.
The LNSF expanded again on September 5, when 128 Squadron joined the fold after re-forming at Wyton. Just five days later, the whole squadron joined the fight when it was part of a 47-strong force which attacked Berlin. The capital was attacked by the LNSF again the following night with another 47 Mosquitos led by 139 Squadron. It was not a good night for the Upwood-based unit which only managed to drop TIs from two of the nine aircraft designated. Enemy flak was also alarming accurate this night, resulting in the loss of Flt Lt J A F Halcro and Flt Lt T J Martin, both RCAF; their Mosquito crashing at in the Horst Wessel district of Berlin. Another 139 Squadron aircraft, flown by Plt Off H A Fawcett was hit by flak during his bombing run which knock out an engine and damaged the hydraulics. Unable to open the bomb doors or lower its undercarriage, Mosquito XX KB227 limped back to Woodbridge where Fawcett executed a perfect crash landing with only minor injuries to himself and his navigator, Fg Off P L U Cross DFC.
With its Overlord commitments declining, the heavy squadrons were now back in force against Germany and the LNSF were called upon to continue 'spoofing' and dropping Window on targets for 8 Group. Kiel and Frankfurt were among the targets attacked with a raid on September 15/16 being particularly successful. While 490 aircraft attacked Kiel, nine Mosquitoes 'spoofed' Lubeck with Window and TIs and followed this by bombing the port. Another 27 Mosquitos attacked Berlin, not to mention 7 others which Windowed Kiel in front of the main raid.
142 Squadron was the next unit to be reformed with Mosquito XXVs at Gransden Lodge on October 25, 1944. Two aircraft were part of a 59-strong Mosquito force on Cologne four days later and two more were over Berlin, joining 60 other Mosquitos in a two-phase diversion. Poor weather disrupted operations during November but this did not stop the LNSF from attacking Hanover nine times in favour of Berlin. Oboe-guided raids, thanks to the advancing allies could now be extended further east putting cities such as Stuttgart well within range. On November 5/6, 65 Mosquitos, led by Oboe and backed up by 139 Squadron, hit the city in two phases 3½ hours apart. Many of the crews involved, all of whom returned safely, reported huge fires and large explosions throughout both phases.
By early December, an average of over 60 Mosquitos were attacking main targets and this was set to increase, with the addition of another squadron on December 16, 1944. 162 Squadron was re-formed at Bourn and along with several new crews for 139 Squadron were the first to be sent on 'Siren Tours' to gain H2S experience. These tours covered every corner of Germany and involved dropping a single 500lb bomb on three or four separate targets. While all crews benefitted from these long trips, it also resulted in keeping ground defences on continuous alert and resulted in many lost man hours in the enemy factories without causing great deal of damage. The first sirens were flown on December 23/24 against Bremen, Hanover, Münster and Osnabrück. The same night, 52 Mosquitoes attacked Limburg rail yards and another 40 attacked Siegburg while the heavies rested.
New Year's Day 1945 saw a classic example of the Mosquito in action when 17 of them attacked railway tunnels between the Rhine and the Ardennes battle area. The object of the exercise was to prevent German forces from being reinforced and in broad daylight and with a 'cookie' apiece, the Mosquitos dived to 200ft dropping their short-fuse delay bombs into the entrances of the tunnels. One crew, Plt D R Tucker and Sgt F A J David, of 571 Squadron, found three tunnels and after making a dummy run on each, in full view of the local villagers, dropped their cookie perfectly into the entrance. Tucker banked round to view his handy work and saw that the whole tunnel had erupted, causing the hillside to collapse into the path of an approaching train.
The final piece of the 8 Group Mosquito jigsaw was in place on January 25, 1945 when 163 Squadron was Reformed at Wyton. This now meant that Bennett could easily muster 150 aircraft at a moment's notice without putting up a maximum effort.
The ever-increasing strength was put to good effect on the February 1/2, 1945 when 176 Mosquito sorties were flown on eight separate targets. Ludwigshafen, Mainz, Siegen, Bruckhausen, Hanover, Nuremburg and Berlin were all hit; the latter involving 122 Mosquitos. Berlin would suffer mercilessly at the hands of the LNSF during the final months of the war and, from the February 20/21, the capital was attacked on 36 consecutive nights. Averaging 60 Mosquitos per raid, 2,538 sorties were flown to Berlin of which 2,409 were successful. 855 cookies were dropped on the city during this period alone and the LNSF continued to bomb Berlin right up to arrival of the Russian forces in late April 1945.
The Mosquitos of 8 Group had performed exceptionally well and, since its formation, they had flown 28,215 sorties with the loss of just 100 aircraft (0.4%), 70 of which were lost by 139 Squadron alone. Approximately 26,000 tons of bombs, of which nearly 10,000 of them were cookies, were dropped on Germany; a remarkable achievement for a small unarmed twin-engined bomber made of wood.
'The value of the Mosquito attacks as a supplement to the attacks by heavy aircraft is unquestioned and their contribution to the success of the combined bomber offensive was both significant and praiseworthy' Bomber Command Review 1945.

AllMyReads
Read every issue of Aviation Classics for just 99p on AllMyReads.com