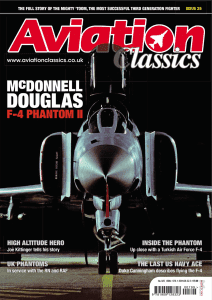 With a unique design that caused the first RAF engineer who saw one to question if it had been delivered the right way up, the F-4 Phantom – or 'Toom' as it is popularly known – is a Cold War icon, but one that is still in service in a number of countries today.
Once again edited by Tim Callaway, who has a broad aviation pedigree, this issue of Aviation Classics includes the publication's now established quality mix of features and photographs. This 132 page glossy A4 perfect bound 'bookazine' will look at how:
From its first flight on May 27, 1958 the aircraft displayed tremendous performance with a maximum speed of Mach 2.2 and a service ceiling of 60,000ft (18,300m)
During the early 1960s the US Navy set 16 world speed and altitude records with the F-4, five of which were to remain unbroken for more than a decade. These performances meant the type was quickly acquired by the US Air Force in 1963 with the US Navy taking the F-4 to war for the first time in Vietnam the following year
Aside from the US armed forces the Phantom was exported to 11 countries worldwide with 5195 being built, a remarkable record that may only be broken by the F-16 later this century
In the UK, Phantoms flew with the Royal Navy from the last of its large fixed-wing aircraft carriers and with the Royal Air Force in both the fighter and fighter bomber roles until the last were replaced by the Tornado in 1992.

Contents
8 The men and the company
30 York, Lancastrian, Lincoln and Tudor
36 The first of the breed
44 Crew Tales Part 1
52 Rolls-Royce and the Griffon
59 Revell competition
60 The classic form emerges
68 Crew Tales Part 2
78 A change of stance
84 Crew Tales Part 3
92 Interim longevity
96 Crew Tales Part 4
100 South African Shackletons
104 Inside the Shackleton
126 Survivors

AllMyReads
Read every issue of Aviation Classics for just 99p on AllMyReads.com