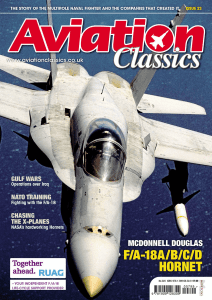 Funny old thing, but here I am stuck on this page again, it's 04.00 (What's the O stand for? O my God it's early!) and I have too much to say as usual for the space allowed.
I have learned an amazing amount about this aircraft, not least of which is how easy it is to overlook its slim grey shape among the fighters of today. I have also learned that that is a grave mistake. This is an aircraft that gets about its business with a minimum of fuss, that much I have learned, but what a business it is.
There is very little in the way of modern military operations that the F/A-18 Hornet cannot achieve. Fighter, strike, interdiction, maritime patrol, reconnaissance, the Hornet does them all, and does them all extremely well for nations as diverse as Finland and Malaysia. There were a great many detractors to the F/A-18 programme, the criticisms that have been levelled include the idea that a single aircraft cannot fulfil all the tasks required of a modern military and that this particular aircraft has never had the range required of a carrier based strike aircraft. Interesting that.
Since it entered service with the US Marine Corps in 1983, the Hornet has been carrying out all the missions it was designed for in conflicts many miles from its carriers. On two occasions F/A-18s were conducting very different operations in separate regions simultaneously. Not bad for a limited capability short range aircraft as some would label it.
The fact of the matter is that Northrop and McDonnell Douglas produced one of the world's great combat aircraft in the Hornet. Flexible, adaptable and supremely reliable, as well as being remarkably cheap to operate, many of the first Hornets built are still flying today, with upgrades ensuring their continued operation well into the next decade.
There is one other thing about the Hornet. It is unbelievably tough, as some of the stories and images in these pages will attest. The basic shape of the aircraft was so right from the start it has changed very little, even in the greatly scaled up F/A-18E, F and G Super Hornets, which, since they are properly a wholly new aircraft, do not feature in this issue of Aviation Classics, but will in the future. The original Hornet thunders on, its tremendous success, despite its detractors, is perhaps its greatest sting.
As usual on these journeys of discovery, there are a great many people to thank for their illumination and assistance along the way. The media department of the Australian Government's Department of Defence have one of the most comprehensive and beautifully maintained websites and an amazing image library for the Royal Australian Air Force.
Many thanks to them for so many of the superb images that fill these pages, and for their speedy and kind replies to all my enquiries. I would also like to welcome Spencer Trickett, the artist behind Skytoons. If you have been to an airshow in recent years, chances are you have seen Spencer at his stand which is full of his artwork, cartoons and aviation collectables.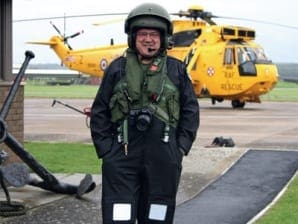 If you want to know more about what he does, have a look at www.skytoons.co.uk. Spencer is going to be producing a cartoon for this page, and others, in Aviation Classics as a regular spot from now on, so welcome aboard and nice Hornet buddy!
All the best,
Tim

Contents
8 Developing a lightweight fighter
18 From the FY-17 to the F-18
22 The F/A-18 partners – part one
36 The F/A-18 partners – part two
52 The model 267 to Hornet
56 The Blue angels
66 Developing the breen
70 The first Gulf War
76 More F/A-18s over Iraq
82 F/A-18s in combat
90 From the cockpit
96 RUAG Aviation
102 The F/A-18 abroad
114 The F/A-18 in detail
120 Chasing X-planes
126 Survivors

AllMyReads
Read every issue of Aviation Classics for just 99p on AllMyReads.com