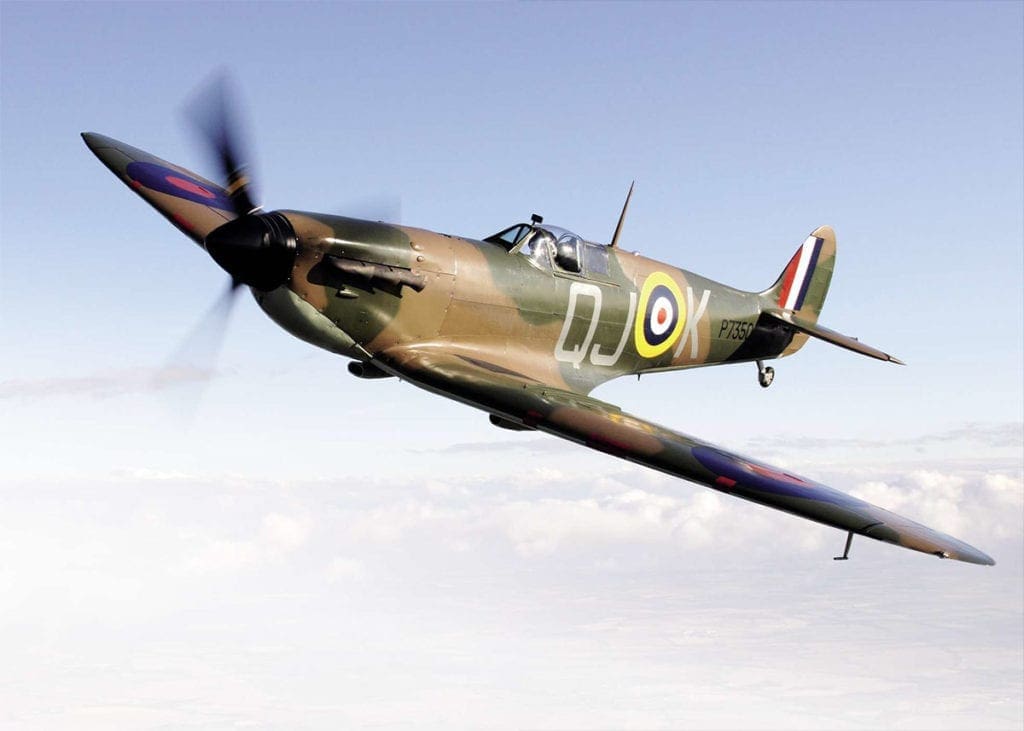 Sqn Ldr Clive Rowley MBE RAF Ret'd tells the story behind the latest paint scheme applied to the Battle of Britain Memorial Flight's Spitfire IIa P7350, which now represents QJ-K of 92 Squadron as flown by Pilot Officer Geoffrey Wellum in 1940.
When he saw the enemy formation it looked like a swarm of gnats on a warm summer evening; hundreds of German Dornier Do 215 and Heinkel He 111 bombers with Messerschmitt Bf 109 fighter escorts intent on attacking England. This was 19- year-old Pilot Officer Geoffrey Wellum's first taste of real combat; his mouth went dry and his heart leapt at this frightening but fascinating spectacle. He and his fellow 92
Squadron Spitfire pilots widened their formation and tore head-on into an attack against the lower layer of Dornier 215 bombers. Geoffrey opened fire and was sure he had scored hits against one Dornier; he only narrowly avoided a collision with it as he broke away. Now he had to fight his way through the escorting fighters, which had come roaring down from above to defend the bombers. Geoffrey fired at one and had to defend himself against another, which was shooting at him, by breaking hard towards it.
Geoffrey Wellum's first combat occurred on 11 September 1940 at the height of the Battle of Britain, just over a month after his 19th birthday, on a day when the Luftwaffe launched three large bombing raids against the south-east of England with London, Portsmouth and Southampton all being attacked. During the morning a major raid of some 250 enemy aircraft headed towards the Kent coast and inland towards Central London through the Biggin Hill Sector.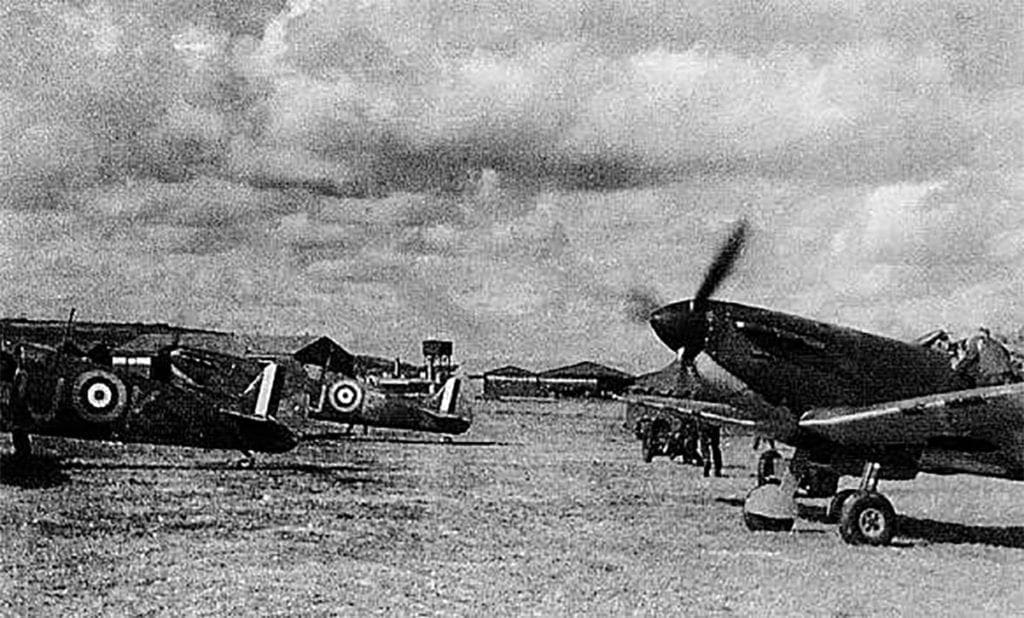 Number 92 Squadron had been moved to Biggin Hill two days earlier from Pembrey in Wales, where it had been 'rested' after suffering heavy losses during the fierce aerial combats associated with the Dunkirk evacuation in May and early June 1940. The squadron had lost seven of its 16 pilots in its first two days of fighting over Dunkirk. While at Pembrey the unit had been given the chance to rebuild and to train new pilots, including Geoffrey Wellum, before being thrown back into battle.
Biggin Hill became one of the most famous RAF fighter stations of all time and it was the Biggin Hill Sector that experienced some of the most ferocious fighting during the Battle of Britain. Although 92 Squadron was entering the fray towards the end of the Battle, it was to win great renown throughout Fighter Command for its panache and vigour, not to mention its success – it would claim 127 enemy aircraft destroyed by December 1940.
When he had arrived on 92 Squadron, then at Northolt, on 22 May 1940, Geoffrey Wellum had a grand total of 168 hours flying training behind him (including 95 hours solo) and he was still only 18 years and nine months old. Only just over a year earlier he had been a schoolboy and the captain of the school cricket team. He had never even seen a Spitfire close up, let alone flown one! The squadron's 'rest tour' at Pembrey, which resulted from its heavy losses in the fighting over Dunkirk, had given him the chance to familiarise himself fully with flying the Spitfire and with operational tactics, although there were still some shortcomings in the tactical training of RAF fighter pilots at this early stage of the war.
In a recent conversation with the author, Geoffrey confided that no-one had ever really taught him how to use the reflector gun sight properly, otherwise, he said, he might have been more successful with his shooting! Nonetheless, this enforced period of additional training for Geoffrey before he was flung into combat may well have been the saving of him, although many other slices of luck also played their part in his survival. Indeed, he had already been fortunate to survive, unscathed, a night landing accident at Pembrey, which wrecked the Spitfire he was flying.
BATTLE OF BRITAIN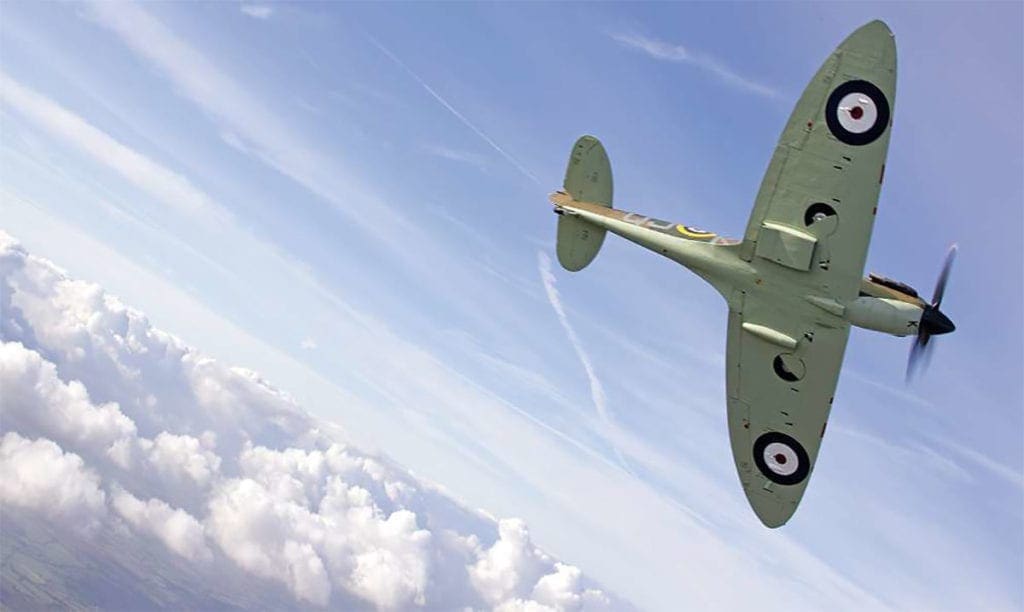 The Battle of Britain, which raged in the skies over southern England between 10 July and 31 October 1940, was a dramatic turning point in the history of World War Two and a defining moment in world history. During these crucial months some 2900 RAF aircrew took part in an historic battle against the German Luftwaffe that was to become the only battle ever to be fought entirely in the air. The Allied fighter pilots involved in the Battle were to become known as 'The Few' after Prime Minister Winston Churchill made his famous speech on 20 August 1940 in which he said: "Never in the field of human conflict was so much owed by so many to so few."
The RAF fighter pilots were supported by an amazing diversity of people on the ground, in and out of uniform, whose efforts and skills, courage and determination allowed the country to fight off a sustained assault by a numerically superior enemy determined to overthrow not just the British Isles but free and democratic processes everywhere. Victory in the Battle was won against incredible
odds and was based on inspired technology, indomitable group spirit and great individual courage and heroism. The Battle of Britain turned the tide of World War Two in the Allies' favour, but the cost was high. Almost 550 RAF aircrew lost their lives; many others were seriously injured. In addition, 23,000 British civilians were killed. The
Luftwaffe lost around 1700 aircraft and an estimated 2600 aircrew. 2010 sees the 70th anniversary of the Battle of Britain, and the BBMF will be at the centrepoint of numerous commemorations and tributes to mark the occasion. Of course, having actually been used in combat during the Battle P7350 will be in high demand throughout the year, so the timing of this article is most apt highlighting the story behind its latest scheme.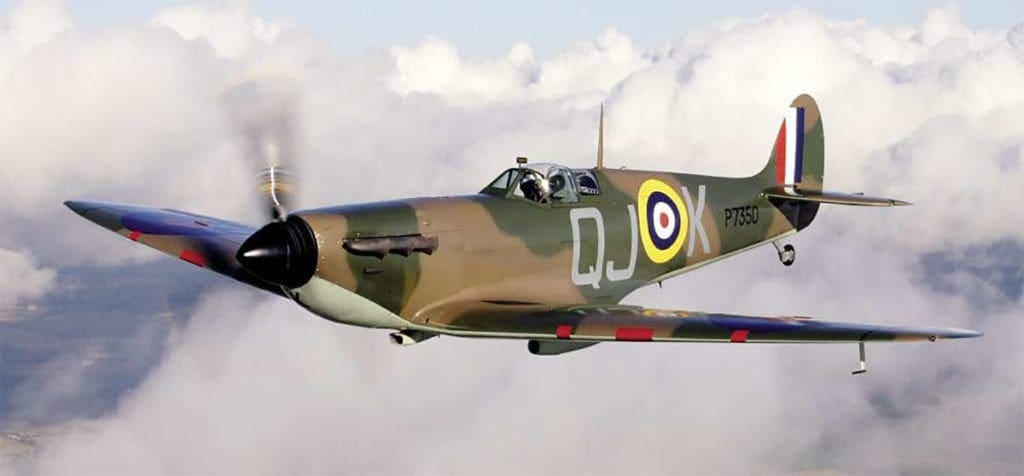 FIRST COMBAT
Geoffrey Wellum's first taste of action came when he was launched against an incoming raid as part of a squadron scramble from Biggin Hill. He was flying as wingman to Flt Lt Brian Kingcome, 92 Squadron's acting commander. (The squadron lost two new COs within days of their arrival and Brian Kingcome led 92 temporarily in the absence of a substantive squadron commander). Geoffrey was flying Spitfire I K9998 coded QJ-K. This was the first Spitfire that he flew to convert to the type after he joined the squadron and by now it had become his personal aircraft.
After the initial, frenetic engagement with the German bomber formation and its escorting fighters, Geoffrey became separated from the other Spitfires and found himself apparently alone in his piece of the sky. Then he spotted a lone German Heinkel He 111 bomber well below him, moving fast between him and the coast, heading towards Dungeness. Without a second thought he dived towards the enemy aircraft. His height and speed advantage allowed him to quickly catch up with the German bomber and to set up a quarter-attack. Ignoring the return fire from the bomber's gunners, he opened fire and saw his rounds striking the Heinkel, especially the port engine, which started to smoke. As he broke away under the bomber, three holes appeared in his port wing – some of the return fire was a little too close for comfort. Another quarter-to-stern attack from the starboard side of the bomber achieved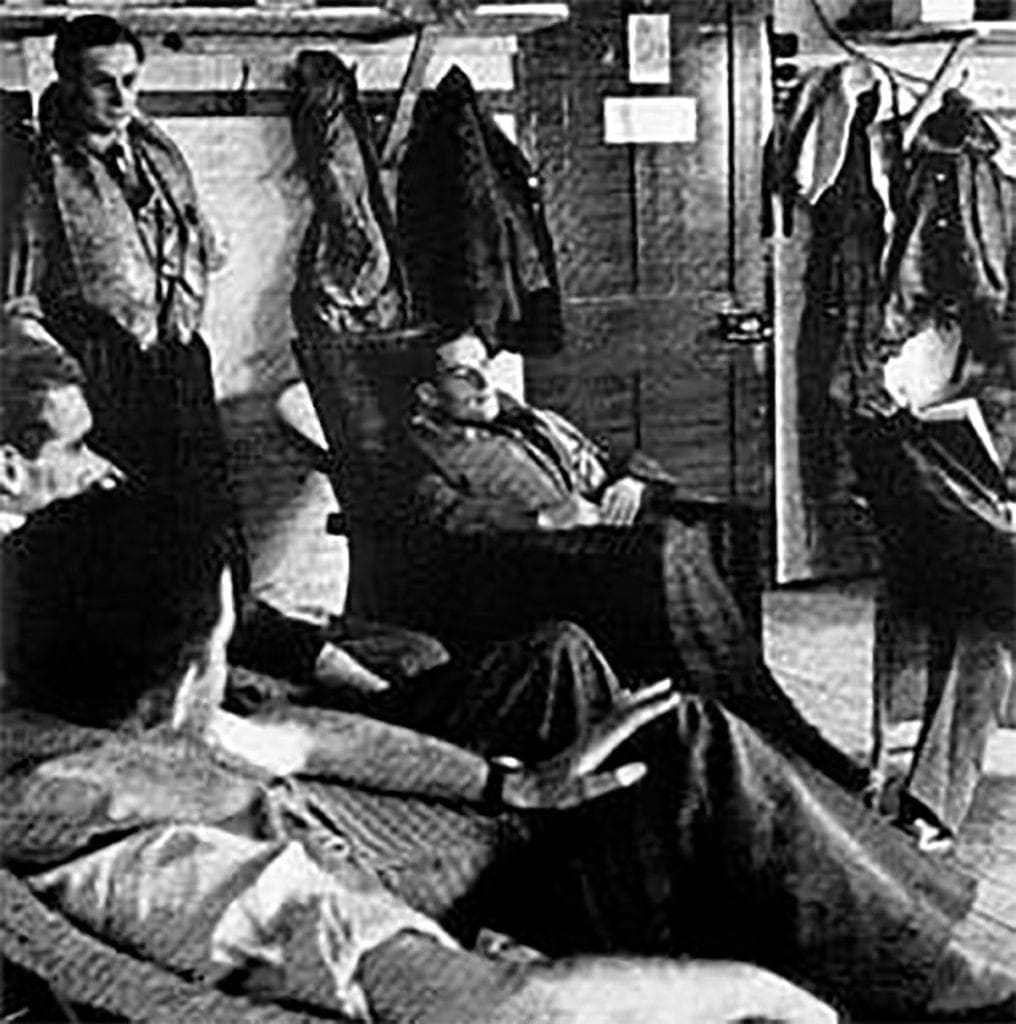 No.92 SQUADRON
Formed as a fighter unit in the latter stages of World War One on 1 September 1917,
92 Squadron moved to France and into action in July 1918. It was engaged in fighter and ground attack duties over the Western Front for the rest of the war, flying the Royal Aircraft Factory SE.5a, and being heavily involved in the Somme offensive of 1918. The squadron was disbanded in 1919.
On 10 October 1939, 92 Squadron was reformed at Tangmere from a nucleus of Auxiliary Air Force and Volunteer Reserve pilots, initially being equipped with the Bristol Blenheim If. In March 1940, while the squadron was based at Croydon, it was re- equipped with Spitfire Mk.Is and became operational as a fighter unit on 9 May 1940, moving to Northolt. The squadron's pilots were a cosmopolitan bunch, with two Canadians, a New Zealander, a South African and an Irishman among its numbers; as was normal on squadrons at that time, several of its pilots were NCOs.
After taking heavy losses during the air fighting in support of the Dunkirk evacuation, 92 was moved to Pembrey in June 1940, to rest and recuperate. The unit moved to Biggin Hill and back into the thick of the action on 9 September 1940. This famous airfield became its base for the remainder of the Battle of Britain and up to early 1942 as Fighter Command adopted a more offensive posture, conducting fighter sweep operations over enemy-occupied Europe.
In February 1942, 92 Squadron was deployed to the Middle East where it flew fighter sweeps and bomber escort missions with Spitfires before moving to Tunisia and then on to Malta in June 1943. After operating from captured airfields in Sicily, the squadron moved on to Italy in September 1943, where it became a fighter-bomber unit in July 1944 for the rest of the war. No.92 disbanded in Austria on 30 December 1946.
The squadron was reformed in 1947 and flew Gloster Meteors, North American Sabres and Hawker Hunters. In 1968 the unit moved to Germany flying the English Electric Lightning F.2/F.2A and McDonnell Douglas Phantom FGR.2s, until it was disbanded again on 1 July 1991.

SPITFIRE IIa P7350 – HISTORY NOTES
WAR TIME
?  April 1938
Order for the batch of Spitfires that included P7350 placed with Castle Bromwich, Birmingham's 'shadow' factory for aircraft production (now the Jaguar car factory). P7350 is believed to be the 14th of almost 12,000 Spitfires built there.
?  18 August 1940
Test flown and then delivered to the RAF (to 6 MU Brize Norton for pre- service inspection/fitment).
?  6 September 1940
Issued to 266 (Rhodesia) Squadron at Wittering and then Hornchurch during the Battle of Britain – wore the code UO-T.
17 October 1940
One of 13 Mk.IIa Spitfires transferred to 603 (City of Edinburgh) AuxAF Squadron at Hornchurch to replace the unit's Mk.Is, the aircraft's code letters being changed to XT-W. (No.603 Squadron was the top scoring fighter squadron during the Battle of Britain with 57 victories).
?25 Oct 1940
P7350 shot down. Squadron bounced by Bf 109s as they climbed out of cloud. P7350 was hit, a large hole appearing in its left wing. The pilot, Ludwik Martel, a Pole, was also hit in the left side of his body and legs by shrapnel from a cannon shell. He brought the aircraft back down through cloud, in pain, fighting to stay conscious and force-landed, wheels up, in a field near Hastings. Ludwik was hospitalised and did not fly again until 6 December by which time the Battle of Britain was over. P7350 was moved to 1 Civilian Repair Unit at Cowley, Oxford (the Morris Motors factory), on 31 October 1940 for repair. It was 1941 before it flew again.
?March-December 1941Operational flying with 616 Squadron at Tangmere and 64 Squadron at Hornchurch.
?April 1942
Finished operational flying – issued to Central Gunnery School, Sutton Bridge, Lincolnshire.
?March 1943-July 1944
Training flying with 57 Operational Training Unit, Eshott, Northumberland.POST-WAR
July 1948
Sold for scrap for £25 to John Dale & Co. Saved and presented by them to the RAF Museum at Colerne.
1968
P7350 made airworthy for flying in the film Battle of Britain. Flown to RAF Coltishall, Norfolk, in November 1968. Presented to the BBMF when filming complete.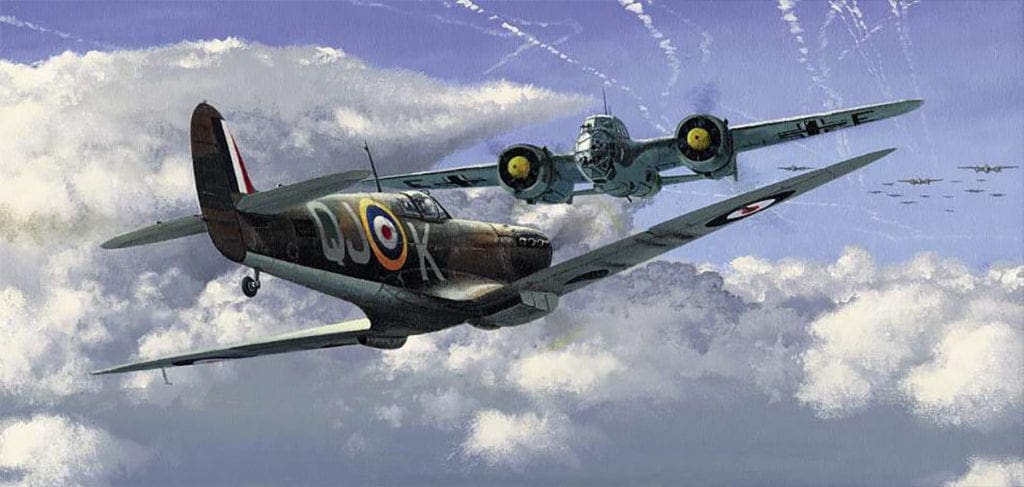 more hits and the return fire from the gunners stopped. Eventually he had fired all of his 15 seconds of ammunition and his guns fell silent apart from the hiss of pneumatic pressure. He could only watch, fascinated, as the Heinkel lost height fast and was very definitely on fire. He felt sure that it was going down into the sea and would not survive the encounter. Suddenly his own aircraft was hit by cannon fire – frighteningly loud noises and explosions errupted behind him. He had been 'bounced' by an unseen German Bf 109 fighter while he was concentrating for too long on 'his' bomber target and now he had no ammunition left with which to fight back!
Heart racing and almost panicking as he tried to control his fear and the dismay he was feeling at his own stupidity, he broke hard into the tightest turn possible and commenced a fight for his life. The prolonged and hard-turning dogfight which ensued was extremely frightening and although, in reality, it probably lasted only a few minutes, it seemed to Geoffrey like 'an age'. The German '109' pilot was determined and skilful, but eventually, thanks to the Spitfire's superb performance and turn rate, Geoffrey managed to extricate himself from what, moments earlier, had seemed like certain death. He raced back to Biggin Hill where he landed with numerous holes in the port wing
"…thanks to the Spitfire's superb performance and turn rate, Geoffrey managed to extricate himself from what, moments earlier, had seemed like certain death."
GEOFFREY WELLUM
Born in Walthamstow on 14 August 1921, Geoffrey Wellum grew up in Essex, always dreaming of flying. At 17 years old, in his last year at school and six months before the war began, he applied to join the RAF. "I was a cocky little b……, a bit full of myself," he says, "The Air Force soon knocked that out of me."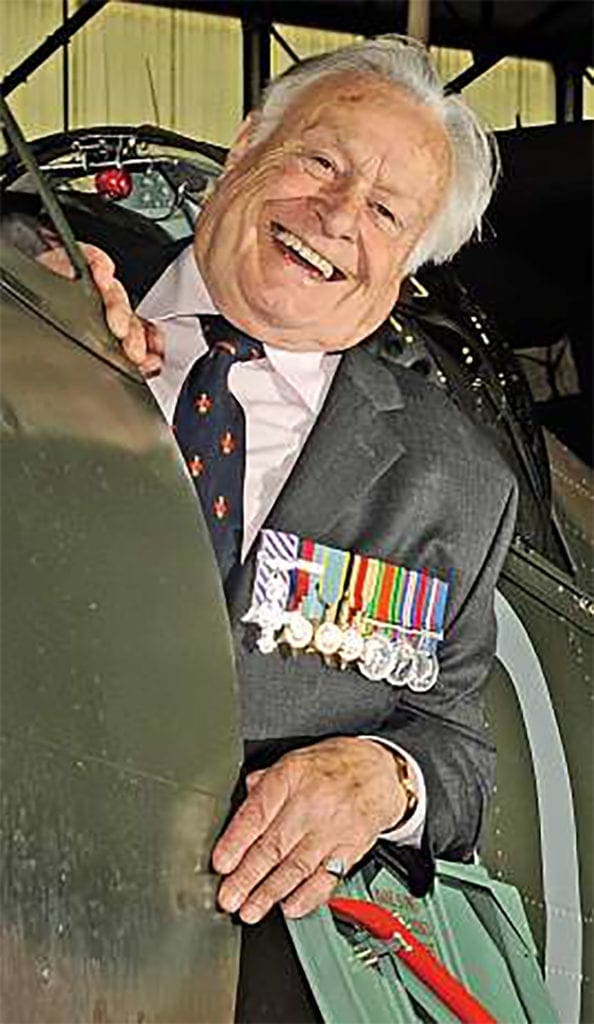 In 1939, two weeks after leaving school, Geoffrey was training with the RAF. Within a year he was sent to join his boyhood heroes in the hell-raising 92 Squadron. After his first combat in September 1940, Geoffrey Wellum flew throughout the remainder of the Battle of Britain and later completed over 50 fighter sweeps and escorts over northern France and Belgium, surviving in Fighter Command until August 1941, unlike many of his friends and colleagues who paid the ultimate price. In March 1942, after a rest tour, Geoffrey joined 65 Squadron as a Flight Commander. In August 1942, he led eight Spitfires off the aircraft carrier HMS Furious to reinforce the beleaguered island of Malta. After two years of near constant action, with dozens of colleagues killed or wounded, Geoffrey Wellum's youthful enthusiasm had disappeared forever, replaced by a weary acceptance of death. He had begun to experience sharp waves of pain across his forehead when, soon after arriving in Malta, his health collapsed and a doctor told him he was 'played out mentally and physically'. He was only 21 years old and his fighting days were over. He was sent home; 'casevaced' to use modern parlance.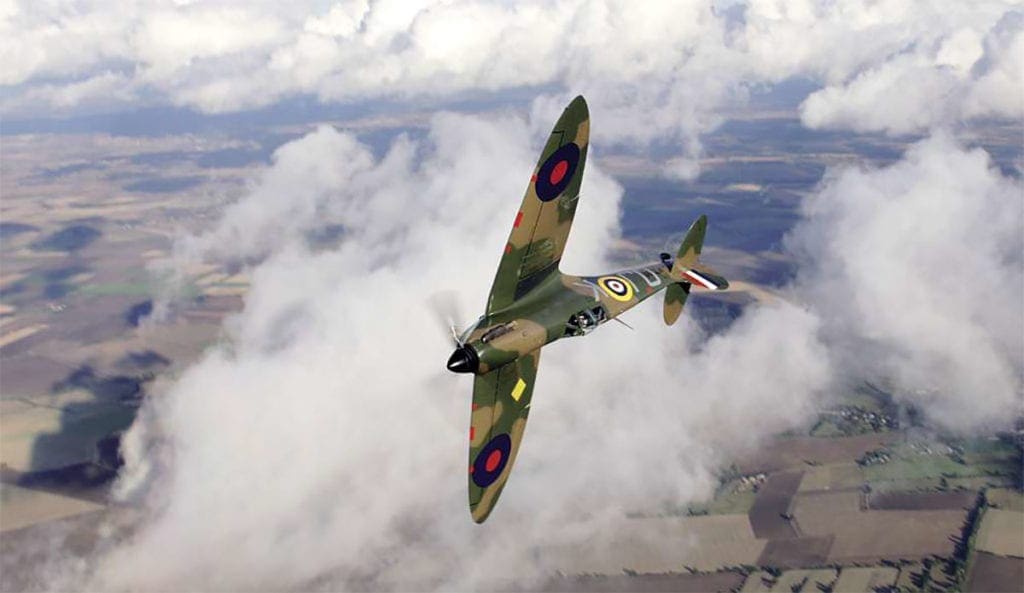 He recovered, though, to become a test pilot at Glosters, testing Hawker Typhoons, and then became a gunnery instructor, staying on in the RAF after the war until 1961. He is now known worldwide after the publication of his widely acclaimed and beautifully written book First Light, a memoir of his wartime experiences, which was first published in 2002 and which became a best seller.
MAJOR MAINTENANCE AT ARC DUXFORD
The Aircraft Restoration Company (ARC) based at Duxford near Cambridge won a contract in 2007 for five years with an option to extend to seven years for the major maintenance of the Battle of Britain Memorial Flight fighters, awarded after a competitive tender process. BBMF Spitfire IIa P7350 was delivered to ARC in October 2008. The extensive work carried out by ARC during this 'major' maintenance programme has given the world's oldest airworthy Spitfire a new lease of life in the air for at least another 50 years. Among the refurbishment work carried out, both wings were re-sparred and the wing carry-through spar was replaced. Several wing skin panels were also replaced to deal with corrosion and to remove previous repairs (unfortunately, the wing skin panels with legacy repairs, which were rumoured to have been battle damage repairs from 1940, had to be replaced with new skin panels).
In addition, the fuselage was stripped of its skin panels, all the gloss white paint that had coated the inside was removed and four or five of the fuselage skin panels were replaced to remove previous repairs. In all some 40-50 per cent of the aircraft's skin panels have been replaced. The fuel tanks were also replaced. All of this work will keep this historic and irreplaceable aircraft flying for very many years to come. Although some of the aircraft's originality has been sacrificed it retains its authentic appearance and, most importantly, airworthiness, in keeping with the BBMF's philosophy – not necessarily original but authentic and airworthy.
K9998 'RESURRECTION'
The Battle of Britain Memorial Flight's Spitfire IIa P7350 is the oldest airworthy Spitfire in the world and the only one flying today that actually flew and fought in the Battle of Britain. Between October 2008 and September 2009 the aircraft underwent a major maintenance programme, conducted by the Aircraft Restoration Company at Duxford, during which it was repainted to represent Spitfire K9998 QJ-K, Geoffrey Wellum's mount on the morning of 11 September 1940 during his first taste of aerial combat and his 'blooding' as a fighter pilot.
Geoffrey was eventually officially credited with three enemy aircraft destroyed, four 'probables' and several damaged. He was awarded the Distinguished Flying Cross in July 1941. He was just one of the many fighter pilots who played their own valiant part during World War Two, paying the price for their courage in a variety of ways; many of them making the ultimate sacrifice. All of them deserve our unstinting gratitude. ?
"He was just one of the many fighter pilots who played their own valiant part during World War Two, paying the price for their courage in a variety of ways; many of them making the ultimate sacrifice."
AllMyReads
Read every issue of Aviation Classics for just 99p on AllMyReads.com